Here at Ansini, we supply aircraft companies with plastic aerospace components. We specialise primarily in aircraft seats and can create a range of plastic components by thermoforming and vacuum forming.
The scope of items we produce is certainly not limited to just mouldings. Combining a number of our other capabilities, we also provide comprehensive assembly services, including leather trimming for premium-level aircraft seat components. We can create a wide range of custom sized aerospace components with our aerospace cnc machining services.
We also support the refurbishment market and therefore we understand the industry very well, so we know the limited time an aircraft can be out of action and we work to tight deadlines and delivery schedules to ensure that any parts made for aircraft cabin interiors are fitted so the aircraft can be back in action as soon as possible. If you'd like to learn more about thermoplastic moulding and vacuum forming read our Complete Guide to Vacuum Forming.
For more information about aircraft cabin interiors and seating, contact Ansini today on 01623 812333 or email info@ansini.co.uk.
What types of materials do we use?
As aerospace component manufacturers, we have extensive experience of sourcing and using aerospace-approved materials, including specialist plastics such as KYDEX and LEXAN. These are used to manufacture products which conform to the highest quality and safety standards, including high flammability resistance.
KYDEX
Kydex is defined as 'a line of thermoplastic acrylic-polyvinyl chloride materials' and is used for a whole array of applications, including seat backs, aircraft pull-down trays, aircraft fairings and more. This unique material has been used since its first production in 1965 for aircraft interiors and has continued to be used for this purpose ever since.
LEXAN
A material you will have seen and touched without even knowing it; Lexan is used for a spectrum of products from phone cases and drink bottles all the way to bullet-proof glass. Lexan has some incredible benefits such as a high impact resistance, low risk of flammability and acid resistant to name a few.
Why choose Ansini for aerospace components?
Ansini are specialists in manufacturing plastic aerospace components and can create a bespoke solution to suit the needs of your airline business. We have an extensive knowledge and experience of working with aerospace CNC machining, so when choosing Ansini, you are choosing quality.
As responsible and experienced aircraft seat manufacturers, we only used approved aerospace components, materials and specialist plastics to ensure that our products conform to the highest safety standards.
Furthermore, we are also ISO 9001:2015 accredited, this ensures that all the aerospace components we manufacture will meet certain standards. For more information about our aerospace CNC machining services or to arrange a free initial consultation to discuss your requirements, please contact our friendly team today and we'll be happy to help.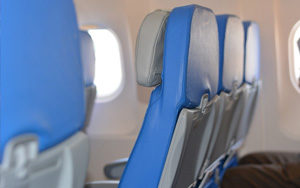 Experienced Aircraft Seat Component Manufacturers
As responsible and experienced aircraft seat manufacturers, we only used approved aerospace components, materials and specialist plastics to ensure that our products conform to the highest safety standards.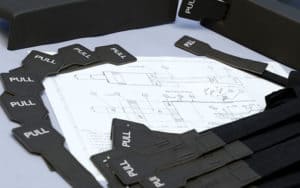 Plastic aerospace components we create
Here at Ansini, we can help to create and manufacture a range of Aerospace components such as:
Aircraft seat mouldings
Leather and fabric re-trimming
Internal aircraft cabin interiors
Headrest assemblies
Footrest assemblies
Armrest assemblies
Table assemblies
Aside from manufacturing plastic parts, we also offer leather and fabric re-trimming services to refine the material after it has been applied to the seat or armrest, ensuring a professional finish every time.
Trim Shop
As part of our services for the Aerospace industry, we have a dedicate Trim Shop which allows us to create bespoke pieces for aircraft seats. Our Trim Shop also allows for customers to select their own choice of colour on the range of leathers we offer.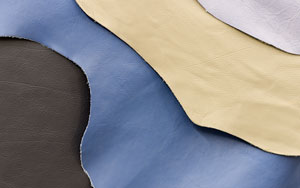 A display of the types of coloured leathers we can provide for our customers.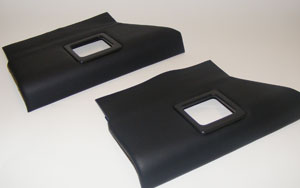 This is a Qantas Armcap, which is fabricated in Aluminium and completed with a coloured hinge and plastazote filling. The product is then finished with a Vacuum Formed bezel.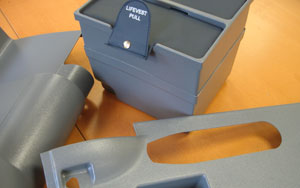 This selection of products are a range of air assemblies we've manufactured for Swiss Air. Our Aircraft Seats are manufactured using a blend of ABS/PC material which is Vacuum formed and then assembled using a Leather Flap Assembly.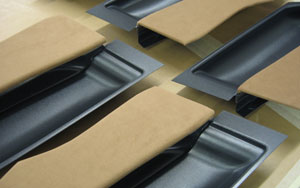 In this example, Lexan Material has been used on a Pocket Assembly which has then been finished in Ultra Suede.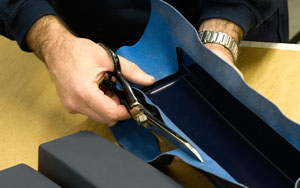 This product uses KYDEX material Vacuum formed which then has Stitched Leather adhered to it with a Fastbond 2000 and Dunlop 708.
If you're interested in working with our team and would like to find out more about how we can create tailored aircraft seating that are unique to you, contact our team by phone, email or through our contact form.