From low-volume start-ups and low-cost tooling to high-volume and large-format production capability, the extensive scope of the routering and CNC machining and plastic services on offer make Ansini the ideal choice for any project.
With a total of eight industry-leading Maka 5 Axis CNC machines giving a footprint of up to 1250mm x 2250mm x 950 mm high, we can meet any requirements for CNC plastic machining and complex trimming, with a high degree of product consistency.
What is CNC Machining?
CNC is short for Computer Numerical Control. It's also sometimes referred to as Subtractive manufacturing, as it involves removing parts of materials such as plastic to create a finished component or part of a component. This automated program is controlled through motorised machines which help with time and accuracy.
CNC machining uses unique strategies to help to create complex shapes, holes, slots and grooves for unique components. CNC machining can be used to create some exceptionally unique pieces, some companies have even created specialised ice-cubes using this process.
It's not just plastic that can be used with CNC machining, marble and even titanium can be milled to create parts and components that are specific and unique in their design.
CNC machining and 5 Axis machining is seen as time saving and cost efficient process, which is why it is widely used in various industries, most notably the Aerospace industry and Medical sector.
5 Axis CNC Machining
In order to achieve 100% accuracy in the CNC routing process, it's essential to use the correct tooling as well as the correct software. We are able to program the trim using CAD solid model data to direct the cutter paths for an accurately finished product.
Bespoke and fine work products can be trimmed and finished by hand or by using our comprehensive selection of smaller trimming facilities.
Types of Axis CNC Machine Services
CNC Routing
CNC Trimming
3 Axis
Onsite jig stool storage facility
5 Axis CNC Capabilities
Significant investment in Maka 5-axis CNC routing offers clients an unbeatable combination of accuracy, repeatability, reliability and efficiency when it comes to the trimming and finishing of vacuum-formed parts.
We have invested heavily to now incorporate twin beds and automated tool changing, resulting in greater processing speeds and enhanced efficiency.
Software and Programmes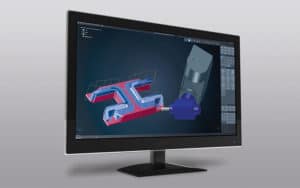 The Tebis off-line programming software we use has been set up to work directly with 3D SolidWorks, IGES and STP CAD files. Our other capabilities in CNC plastic machining include CNC 3-axis routing, tool development and onsite jig and tool storage.
We are also able to trim and finish bespoke and fine-work products by hand, or by using our comprehensive selection of smaller trimming machinery.
Make to Print
Make to print plastic components are where they are designed, materials specified and tested by your company. The supplier only becomes involved solely to manufacture the products to the specification requested and will have no other input on the design or testing of the plastic components.
The make to print process is suitable for a variety of plastic parts which can range from small mass produced pieces to larger, more unique projects. Our make to print parts can be manufactured through the vacuum forming or thermoplastic forming process.
Furthermore, our make to print plastic components are finished to a high standard by one of our eight, industry-leading, Maka 5 Axis CNC machines which can meet even the most complex machining and trimming requirements.
Why Choose Our CNC Plastic Machining Services?
Exceptional Quality
Our quality assurance team oversees a programme integrated into continuous development, testing, and production. When services and products are sub-contracted we verify that any parties involved are issued with a specification for compliance and meet our quality standards.
Accredited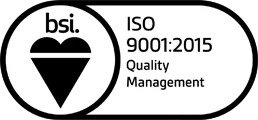 To further our promise of quality, we are ISO 9001:2015 accredited. Our quality management system assures you that our products will meet and exceed your quality requirements.
For more information about our CNC plastic services which include, 5 Axis, 3 Axis, CNC routing and CNC machining. Please get in touch to arrange a free consultation to discuss your requirements, please contact Ansini today on 01623 812333 or email info@ansini.co.uk.
What is 5 Axis CNC machining?
How does the 5 Axis CNC machining process work?
5 Axis CNC machining is an advanced cutting and trimming method that helps create the highest quality plastic parts and is often always an added service, usually paired with a plastic parts manufacturing process such as vacuum forming.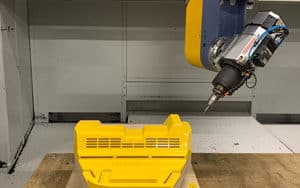 A large block of material or newly moulded plastic product is placed under the CNC machine and secured in place. Commonly with clamps or placed on a jig fixture and aided with a vacuum.
Excess material is then removed by the cutting tool until the end product is finished to a high quality in accordance with the design specifications. This is known as a subtractive process unlike something additive such as 3D printing.
Many machines operate on a 3 axis basis but the additional rotating axis used in 5 Axis CNC machining allows more simultaneous movements which allow for smoother, more intricate designs to be cut with high precision. Due to the complexity of this process, you will also require CAD and CAM software to ensure that the machining process is completed correctly and accurately.
What are the advantages of 5 Axis CNC machining Service?
As with all plastic manufacturing and cutting processes, 5 Axis CNC machining has its unique advantages and is often the preferred method for cutting and trimming plastic parts to a high standard.
Minimised Setup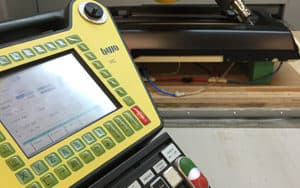 When working on a complex part that requires cutting on multiple faces across multiple surfaces, there is a lengthy stop and start process with 3 Axis machining as the machine needs to be set up differently for each surface it works on.
Due to the additional axes of 5 Axis CNC machining, all the cutting and trimming can be completed with a single machine set up as a 5 Axis machine can work on multiple surfaces in a single operation.
This minimised set up removes the need to remove the part from the machine, which allows for faster material removal as well as increased rotational accuracy as a task involving multiple complex cuts can be completed in a single set up.
Higher Quality Surface Finishes
The two additional axes of 5 Axis CNC machining allows you to bring the part closer to the cutting tool. This allows for the use of a shorter cutting tool, which is less susceptible to vibrations and movement at high cutting speeds. This helps to achieve a smoother, cleaner cut and surface finish which increases the quality of your plastic parts.
More Complex Designs
As mentioned previously, the additional axes allow for more precise, deeper cuts which are often required for more complex designs. The capability to create a complex and precise design is something 3 Axis CNC machining is unable to do, making 5 Axis CNC machining the preferred option for creating and finishing the highest quality parts.