Ideally suited to low to medium-volume batch production, or very large-format assemblies, plastic vacuum forming offers a cost-effective alternative to injection moulding, which often involves a significant investment in tooling.
Our considerable expertise in vacuum forming plastic, particularly when it comes to material selection and manufacturing, means that we are able incorporate a diverse range of processes and products.
What are the advantages of Vacuum Forming?
Plastic vacuum forming has many benefits over other types of forming. When vacuum forming plastic, low forming pressures are used which enables the use of lower cost tooling and cheaper materials for the mould. This also leads to a reduced lead time for tooling manufacture, more cost effective vacuum forming products and more economical prototyping.
Whatever your product or industry, our plastic vacuum forming production specialists can advise on the best manufacturing process to give you the best solution for your budget.
If you are interested in learning more about our vacuum forming products or would like to arrange a free consultation, please contact Ansini today on 01623 812333 or email info@ansini.co.uk.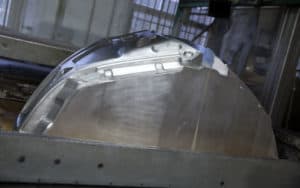 Technical Capabilities
Large capacity mould machinery – a total of 10 machines up to 2M x 1M
Material thicknesses of between 1.0mm and 8.0mm
Plastics used include ABS, PP, HDPE, HIPS, POLYCARB and PETG
Specialist aerospace materials including KYDEX and LEXAN
Roll-fed machine thicknesses of between 0.25 – 1.0mm
More information about thermoplastic moulding at Ansini can be found at www.thermo-plastic-moulding.co.uk.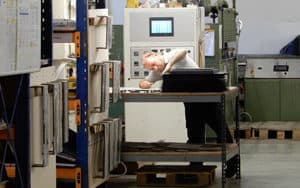 Our Vacuum Forming Products Include:
Aircraft seat mouldings, internal cabin mouldings, headrest, footrest, armrest and table assemblies for the aerospace industry.
Boot liners, spare wheel covers, under-chassis and external body mouldings and headlight components for the automotive industry.
Lawnmower panels, machinery parts, irrigation systems, propagators and tractor mouldings for the agricultural industry.
Grab rails and handles, disabled seat mouldings, chair lifts, disability aids, wheelchair frames and access equipment for the medical industry.