Ideally suited to low to medium-volume batch production, or very large-format assemblies, plastic vacuum forming offers a cost-effective alternative to injection moulding, which often involves a significant investment in tooling.
Our considerable expertise in vacuum forming plastic, particularly when it comes to material selection and manufacturing, means that we are able incorporate a diverse range of processes and plastic vacuum formed products.
What is Vacuum Forming?
Vacuum forming is a version of thermoforming with some slight variations. Similarly to thermoforming, vacuum forming involves heating a sheet of plastic to a forming temperature, the sheet is then forced against a mould using a vacuum. This process can be used to mould a wide range of plastic products for a range of sectors including the automotive, aerospace, and medical industries.
If you would like to learn more about vacuum forming, check out our complete guide to vacuum forming.
What are the advantages of Vacuum Forming?
Plastic forming has many benefits over other types of forming. When vacuum forming plastic, low forming pressures are used which enables the use of lower cost tooling and cheaper materials for the mould. This also leads to a reduced lead time for tooling manufacture, more cost effective plastic vacuum forming products and more economical prototyping.
Whatever your product or industry, our plastic vacuum forming production specialists can advise on the best manufacturing process to give you the best solution for your budget.
Learn more about the plastic vacuum forming process.
Vacuum Forming Process
The vacuum forming process is made up of several stages which can incorporate various other processes, such as tooling. However, at its core, the vacuum forming process is as follows:
Make the tool.
Place the tool in the vacuum forming machine.
Position the heater above the plastic.
Present the tool toward the plastic.
Remove the finished part from the vacuum former.
Make to Print
Make to print plastic components are where they are designed, materials specified and tested by your company. The supplier only becomes involved solely to manufacture the products to the specification requested and will have no other input on the design or testing of the plastic components.
The make to print process is suitable for a variety of plastic parts which can range from small mass produced pieces to larger, more unique projects. Our make to print parts can be manufactured through the vacuum forming or thermoplastic forming process.
Furthermore, our make to print plastic components are finished to a high standard by one of our eight, industry-leading, Maka 5 Axis CNC machines which can meet even the most complex machining and trimming requirements.
Why Choose Our Plastic Vacuum Forming Services?
Ansini offer a range of plastic vacuum forming services to a wide range of sectors, we are recognised as one of the UK industry leaders, as a specialist in vacuum forming and thermoplastic moulding. We're driven by demanding industry standards and lean practice procedures to ensure you'll receive the highest quality product, which has passed our quality assurance standards.
To further our promise of high quality, we are ISO 9001:2015 accredited. Our strict quality management system assures that our products will not only meet, but exceed your quality expectations.
For more information about our vacuum forming services or to arrange a free consultation to discuss your requirements, please contact Ansini today on 1623 812333 or email info@ansini.co.uk.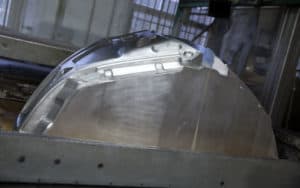 Technical Capabilities
We have an extensive range of technical vacuum forming capabilities which allow us to form products to any of our client's specifications.
Machinery
Here at Ansini we have a total of 10 large capacity mould machines capable of operating with moulds up to 2M x 1M in size, allowing us to accommodate projects that require moulds that are larger in scale.
Materials
We are able to mould a wide range of plastics including ABS, PP, HDPE, HIPS, POLYCARB, and PETG. We are also capable of working with specialist aerospace materials including KYDEX and LEXAN. Our other material capabilities include:
Material thicknesses of between 1.0mm and 8.0mm
Roll-fed machine thicknesses of between 0.25 – 1.0mm
For more information about thermoplastic moulding at Ansini please visit www.thermo-plastic-moulding.co.uk.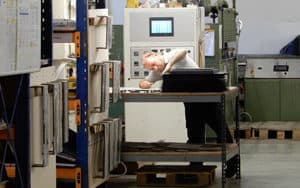 What Industries Benefit From Vacuum Formed Products?
Vacuum Plastic Forming is perfect for creating bespoke, unique items and components that can be applied to a spectrum of products that are used daily, in vehicles, medical equipment and more.
We have had the pleasure of working with a variety of businesses in different industries that have used Vacuum Forming as part of the manufacturing process.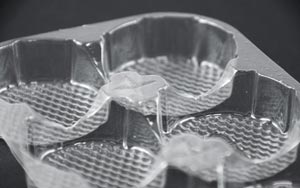 What Are The Differences Between Vacuum Forming and Injection Moulding?
Both plastic forming and injection moulding are useful for creating custom plastic components and each process has its own unique benefits and drawbacks, depending on what they are required for.
For more information read our guide on the differences between vacuum forming and injection moulding.
Applications of Vacuum Forming