Ansini provide a complete thermoplastic forming solution to take your product from initial design to finished concept without compromising your ideas to fit in with our approach to working.
We offer flexible and bespoke solutions so whatever the volume or size required, Ansini can deliver cost effective and high quality products from our vacuum and thermoplastic moulding facilities.
Working in a range of sectors including automotive, aerospace, agricultural, leisure, industrial and medical. We can manufacture parts to an industrial scale and can tailor your custom design to fit our thermoplastic forming process in order to match any customer specification.
Learn more about thermoforming in our complete guide to vacuum forming.
Key Terminology Used
Thermoplastic forming uses specific terminology and if you're unsure on what certain terms mean, here's a quick guide to the different phrases used within the thermoplastics industry.
Thermoplastics
This refers to a style of plastic made from polymer that becomes mouldable at a certain temperature and solidifies when cooling.
Thermoforming
This is a general term which describes the process of transforming a sheet of plastic into a three-dimensional shape by using heat, vacuum and pressure.
Vacuum forming
This process involves forming a part by heating and stretching plastic across a mould using a vacuum. For a more detailed explanation on the vacuum forming process, check out our Vacuum Forming Guide.
The Thermoplastic Forming Process
Our thermoplastic forming process works by heating a sheet of thermoplastic then stretching and manipulating it across a mould to give it the desired shape. Thermoplastic moulding transforms the plastic sheet into a 3-dimensional shape and then the forming process allows the plastic to conform  to its final shape before the product is finished and trimmed.
The Benefits of Thermoforming
The specific advantages of the thermoforming process involve aspects such as:
Size Versatility – Thermoforming allows for the manufacture of larger and smaller plastic components which can be useful across a number of sectors.
Cost Effective – Many companies and businesses across a multitude of sectors choose the thermoforming process as it is more cost effective than other methods of plastic moulding such as injection moulding. This is mostly due to the fact that a large part size would commonly mean a high tooling cost.
Reliable – Thermoforming has been a staple of plastic component manufacturing for a while now and has been tried, tested, and adapted to ensure that it is an effective and safe method of manufacturing plastic parts and components.
Adaptable – The thermoforming process is easily adaptable to a number of applications and allows for easy customisation of products if required which can be a major advantage.
Why Choose Ansini
Ansini offer a range of vacuum forming and thermoplastic forming services to a wide range of sectors and are recognised as one of the industries leading specialists in the UK. We're driven by demanding industry standards and lean practice procedures to ensure you'll receive the highest quality of product at competitive rates.
We have a range of manufacturing capabilities to accommodate for all styles of clients. Whether it's a single moulded part or complex batch assembly, we have the scope and expertise to deliver without compromise. We can accommodate clients both domestically and overseas due to our logistical knowhow, allowing us to dispatch our products across the globe.
For more information about our thermoplastic forming and manufacturing process or to arrange a free consultation to discuss your requirements, please contact Ansini today on 01623 812333 or email info@ansini.co.uk.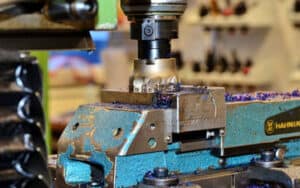 Make to Print
Make to print plastic components are where they are designed, materials specified and tested by your company. The supplier only becomes involved solely to manufacture the products to the specification requested and will have no other input on the design or testing of the plastic components.
The make to print process is suitable for a variety of plastic parts which can range from small mass produced pieces to larger, more unique projects. Our make to print parts can be manufactured through the vacuum forming or thermoplastic forming process.
Furthermore, our make to print plastic components are finished to a high standard by one of our eight, industry-leading, Maka 5 Axis CNC machines which can meet even the most complex machining and trimming requirements.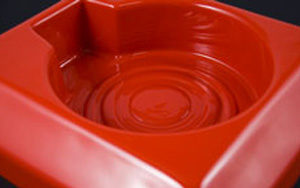 Materials Used in Thermoplastic Forming and Moulding
There are many different materials that can be used when forming or moulding thermoplastic and the best materials are selected based on the products primary function. Types of plastic used include Acrylic, Polypropylene, Polyethylene, Polyetherimide and PVC.
Thermoplastic forming can be used with a variety of different materials, depending on the requirements of the specific project.
Acrylic
A clear material that is abrasion resistant. Easy to fabricate and is available in impact-modified grades and multiple colours.
Polypropylene
A material with excellent chemical resistance. It's rigid and has a good impact strength and works well at higher temperatures however dimensionally, polypropylene is not as stable as other materials.
Polyethylene
Commonly used for packaging such as plastic bags, plastic films, containers and bottles. It's a clear material which is low cost to manufacture.
Polyetherimide
A very high temperature grade material with a natural amber colour
PVC
A strong and rigid material with a good impact strength. PVC is also flame-resistant but its usability is restricted.
Any products that require a decorative finish can be manufactured using a pre-printed thermoplastic or can be achieved through post-moulding printing. Whatever the product or specification, we can advise on the best approach to get the most from your design concept by using the most effective process of manufacturing.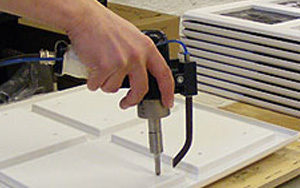 Quality Assurance
Although the core sectors we supply are automotive and aerospace, the same high quality standards are applied across every single product we produce, regardless of the industry.
As an ISO 9001:2015 certified company, we streamline our thermoplastic forming process to cut down any unnecessary cost or wastage from the manufacturing process, ensuring that you get the highest quality of product at the most competitive rate.