From low-volume start-ups and low-cost tooling to high-volume and large-format production capability, the extensive scope of the routering and CNC machining services on offer make Ansini the ideal choice for any project. With a total of eight industry-leading Maka 5 Axis CNC machines giving a footprint of up to 1250mm x 2250mm x 950 mm high, we can meet any requirements for CNC plastic machining and complex trimming, with a high degree of product consistency.
In order to achieve 100% accuracy in the CNC routing process, it's essential to use the correct tooling as well as the correct software. We are able to program the trim using CAD solid model data to direct the cutter paths for an accurately finished product.
Bespoke and fine work products can be trimmed and finished by hand or by using our comprehensive selection of smaller trimming facilities.
The summary of our CNC machining services offered include:
3 Axis CNC Routing
5 Axis CNC Routing
Onsite jig tool storage facility
For more information about our CNC routing or CNC machining services or to arrange a free consultation to discuss your requirements, please contact Ansini today on 01623 812333 or email info@ansini.co.uk.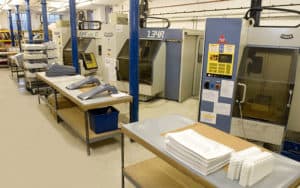 Capabilities
Significant investment in Maka 5-axis CNC routing offers clients an unbeatable combination of accuracy, repeatability, reliability and efficiency when it comes to the trimming and finishing of vacuum-formed parts. We have invested heavily to now incorporate twin beds and automated tool changing, resulting in greater processing speeds and enhanced efficiency.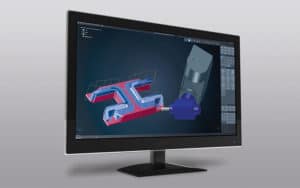 Software and Programmes

The Tebis off-line programming software we use has been set up to work directly with 3D SolidWorks and IGES and STP CAD files. Our other capabilities in CNC plastic machining include CNC 3-axis routing, in-house tool development and onsite jig and tool storage. We are also able to trim and finish bespoke and fine-work products by hand, or by using our comprehensive selection of smaller trimming machinery.