Working primarily with companies involved in aircraft interiors, we assist aircraft seat manufacturers to produce not only aircraft seating but a range of thermoplastic mouldings specifically for use within aircraft cabin interiors.
The scope of items we produce is certainly not limited to just mouldings. Combining a number of our other capabilities, we also provide comprehensive assembly services, including leather trimming for premium-level aircraft seat components.
As aerospace plastic manufacturers, we have extensive experience of sourcing and using aerospace-approved materials, including specialist plastics such as KYDEX and LEXAN. These are used to manufacture products which conform to the highest quality and safety standards, including high flammability resistance.
We also support the refurbishment market and therefore we understand the industry very well, so we know the limited time an aircraft can be out of action and we work to tight deadlines and delivery schedules to ensure that any parts made for aircraft cabin interiors are fitted so the aircraft can be back in action as soon as possible.
For more information about aircraft cabin interiors and seating, contact our Ansini today on 01623 812333 or email info@ansini.co.uk.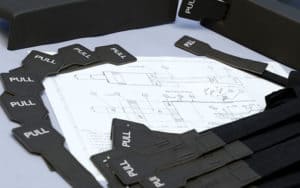 The current scope of produced items includes:
Aircraft seat mouldings
Leather and fabric retrimming
Internal aircraft cabin interiors
Headrest assemblies
Footrest assemblies
Armrest assemblies
Table assemblies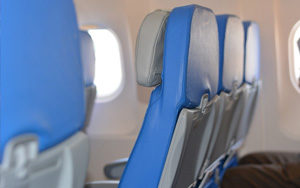 Experienced Aircraft Seat Component Manufacturers
As responsible and experienced aircraft seat component manufacturers, we only used approved aerospace components, materials and specialist plastics to ensure that our products conform to the highest safety standards.