Ansini are proud to have helped the University of Nottingham Formula Student Racing Team achieve a best ever 3rd place finish in the Formula Student 2021 race at Silverstone in July.
The annual event is a student engineering competition organised by the Institution of Mechanical Engineers and challenges university teams from around the world to design, build and run the best single seater race car.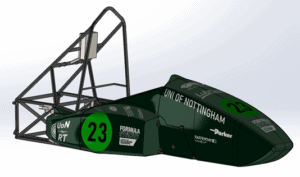 In March 2021, Ansini were contacted by a student from the University of Nottingham regarding the use of our vacuum forming services to help manufacture the vehicle body panels that would be used on the formula student car.
The team at the University of Nottingham provided the designs and final moulds, however relied on Ansini's expert vacuum forming capabilities to create 5 – 10 separate panels to complete the body of the car – which Ansini obliged completely free of charge.
With a tight deadline of the end of June, the Ansini team were able to work their magic to supply the University of Nottingham Formula Student Racing Team with the final plastic body panels to allow them to complete the car and compete in the showcase event.
The UoN Formula Student Racing Team were delighted with the finished product, saying: "The car's bodywork certainly did catch the eye of a few people – I believe "best looking car of the competition" was mentioned just once or twice and plenty were interested in its design and manufacture, which we were proud to explain was actually vacuum formed and not composite lay-up as is often the case with many of the cars at the competition."
The team here at Ansini would like to congratulate all students who were involved in the project on their third place finish and completion of their impressive project!
"Ansini have been instrumental in the successful delivery of our car's bodywork, and we are very grateful for their support and willingness to accommodate throughout the whole process – from initial site visit and laying down of requirements to the final production of parts. Using vacuum forming allowed us to create a precise, lightweight and functional bodywork package, which undoubtedly helped us secure our overall 3rd place finish in the Formula Student competition." – Adrien, Student at UoN
For more information on the event and the process of building the e-car, please visit the UoN Formula Student Racing Team Facebook page.
Behind the Scenes