As experienced plastic packaging manufacturers, customers can take advantage of our proven expertise in the design of bespoke vacuum formed packaging. No matter what your material requirements, your market sector or the demands of the environment in transit or at point of purchase, Ansini can provide innovative solutions to your all consumer packaging needs through high quality vacuum formed packaging.
Benefits Vacuum Formed Packaging
When choosing a solution for manufacturing packaging for your products, vacuum forming may be the best option for you for a variety of reasons.
Cost Effective
Vacuum forming is a cost effective way to mass produce various types of plastic components, including consumer packaging. By using a precise moulding process and tailoring the mould around your product, costs can be greatly reduced as less plastic is required and consequently less waste. This is not only good for your pocket but the environment too.
Ansini customers can also benefit from low volume start-ups, low-cost tooling, high-volume production capability and low-cost manual assembly.
Versatile
The versatility of manufacturing vacuum formed plastic packaging means that the process is suitable for an extensive range of packaging styles and materials. We are able to manufacture consumer packaging using a variety of materials including PVC and HIPS.
Call us on 01623 812333 or contact a member of our team today to discuss your packaging requirements.
Types of packaging we produce
We produce a wide range of plastic packaging including clamshell and blister packaging. However, we are able to produce many more types of packaging to suit your precise needs and requirements, some more examples include: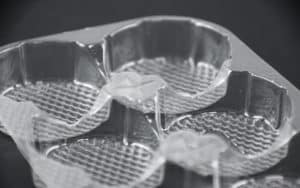 Cold seal blister packaging
Clamshell packaging
Plastic transit trays
Plastic box inserts
Point of purchase trays
Shelf-ready packaging trays
Whilst we predominately manufacture vacuum formed packaging for the medical sector, we can also take our expertise and apply this to the beauty and cosmetics industry to create plastic box inserts for use in consumer packaging and giftware.
If you would like to understand more on plastic vacuum forming, please read our Vacuum Forming Guide.
Why Choose Ansini?
Minimising Waste Costs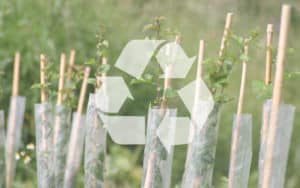 100% of all waste plastic generated at Ansini is recycled. As we are plastic packaging manufacturers who are able to minimise material waste costs, we can offer you even more competitive rates – with no need to pay for anything that ends up in the recycling bin.
Reflecting our innovative approach to both lean manufacturing and environmental issues, a proportion of the waste plastic we produce is converted into Ansini Spiral Tree Guards, which protect vulnerable saplings from pests and systemic herbicides.
Make to Print
Make to print plastic components are where they are designed, materials specified and tested by your company. The supplier only becomes involved solely to manufacture the products to the specification requested and will have no other input on the design or testing of the plastic components.
The make to print process is suitable for a variety of plastic parts which can range from small mass produced pieces to larger, more unique projects. Our make to print parts can be manufactured through the vacuum forming or thermoplastic forming process.
Furthermore, our make to print plastic components are finished to a high standard by one of our eight, industry-leading, Maka 5 Axis CNC machines which can meet even the most complex machining and trimming requirements.
For more information about vacuum formed plastic packaging from experienced plastic packaging manufacturers, please contact Ansini today on 01623 812333 or email info@ansini.co.uk.